When it comes to water heater repair, it's important to have a team that you can trust to get the job done right. At Spartan Plumbing Services in Tacoma, we pride ourselves on providing exceptional repair when you need it most. If you can't get any hot water in your taps and faucets, or you notice that there is water pooling around your water heater, then give us a call at (253) 231-7661 today. We're available 24/7, so if something goes wrong, we'll be there!
Common Water Heater Problems
Water heaters can experience a bevy of issues, and it's important to be aware when something isn't right with your appliance. At Spartan Plumbing, our team is well-versed in what it takes to repair a malfunctioning water heater, but unless you notice something is wrong, you can't let us know.
1.

No Hot Water
This is perhaps the most common issue with hot water heaters, and it's a big one. When you have no hot water anywhere in the house, you know something is wrong. It's likely that the heating element in the tank has gone out, and it will need to be replaced before you can enjoy that long, hot shower or wash your dishes with hot water. It could also be a problem with the thermocouple or the pilot control valve. Our team will be able to get to the bottom of the issue quickly.
2.

A Noisy Tank
If your water heater tank is making noises, then the likely culprit is sediment in the bottom of the tank. The heating element, while warming up the water, is burning the sediment, causing it to pop or crackle. If you hear this type of noise, then it's imperative to call us right away so that we can drain and flush the tank, removing the built-up sediment. Leaving things alone will only exacerbate the problem, and could lead to total appliance failure.
3.

Water is Too Cold or Too Hot
You may be getting some hot water in your plumbing, but there may not be enough or it may run out soon after you turn on the tap. This problem usually occurs when the thermostat on the tank isn't set to the right temperature, or if the thermostat is faulty. Adjusting the thermostat may take care of your water temperature problem, but if it's faulty, we can replace it with a new one that will keep your water at the proper temperature all the time.
4.

A Leaky Tank
If you notice that your water heater is leaking onto the floor of your utility room or laundry room, then unfortunately there's usually only one thing you can do — replace it. A leaky tank means that there is corrosion around the bottom, and it's imperative that you replace the appliance before the entire bottom gives out and you have a flood. Some leaks can be repaired, and we'll determine if the tank can be saved or if it needs to go.
These four issues are just an example of what can go wrong with your water heater. If you're experiencing these or any other problems, then contact Spartan Plumbing in Tacoma today!
---
Types of Water Heaters
There are different types of water heaters, and when it comes to repairing them, our team knows how to take the best approach. Whether you have a conventional or tankless model, we can provide the parts that your appliance needs and get it working again in no time.
Conventional Water Heaters
The majority of homes in the Tacoma area have conventional, or storage tank, water heaters. These appliances are often fueled by gas or powered by electricity, and they've been a mainstay in houses and apartments for decades. The insulated tank stores water until it is needed somewhere in the house, and then the tank refills and the heating element warms up the water once again. Conventional water heaters come in a variety of sizes, and our team knows how to work on them all.
Electric Water Heaters
Electric water heaters can be a great choice for your home, and they can be fairly easy to maintain. With an electric appliance, there are often heating elements in both the upper and lower parts of the tank. These warm up the water before distributing it throughout the house, and it can be a rather efficient way of supplying hot water. The most common problems with electric models is that the heating elements go out or that the water heater breaker trips every so often. As with any water heater, there can also be issues with the thermostat as the appliance grows older.
Gas Water Heaters
Gas water heaters rely on natural gas to heat up the water in the tank. There is a supply line that brings the gas to the appliance, and a pilot light provides the flame that ignites the burner when the heater turns on. The most common problems with gas models are often found with the pilot light or thermocouple, which is a safety device that senses when the pilot light is lit. If the pilot light goes out, the thermocouple keeps the gas from turning on, because if it did, gas could leak into your home, posing a risk to you and your family. If the thermocouple goes bad, it could send the wrong signal to the gas valve, making it turn on or turn off at the wrong time. This can negatively impact your water heater's efficiency and cost you more money in energy costs each month.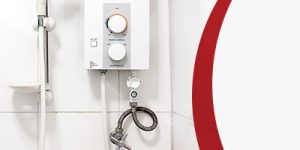 Tankless Water Heaters
Tankless water heaters, also known as "on-demand" water heaters, have grown quite a bit in popularity over the last 10 to 15 years. They tend to be more energy-efficient than conventional water heaters, and many homeowners have removed their old tank models and installed a tankless option.
---
The Benefits of a Tankless Model
Tankless models have water-filled coils that are warmed through heating elements. They're often installed on the wall of a utility room or laundry room, and take up much less space than a conventional water heater. They provide a continuous flow of hot water throughout the house, which is extremely beneficial for families who use a lot of hot water throughout the day. It's especially advantageous for families who live in a house with multiple bathrooms, and one person is showering while another is cleaning, and the washing machine and dishwasher are running.
No matter what type of water heater you have that needs to be repaired, Spartan Plumbing is here to help. We have experience with both conventional and tankless models, and we understand how to replace parts, check for proper functionality, and ensure accurate operation. If you have questions about tankless water heaters, then please don't hesitate to contact us.
---
Repairing Your Water Heater
As a homeowner, there are few things worse than realizing that your water heater needs to be repaired. You turn on the shower in the morning, but even after a few minutes, there's no hot water coming out of the showerhead. What's worse than that is when you're in the middle of a shower, and the hot water runs out, leaving you with frigid water raining down on your head. At Spartan, we understand the need for quick and effective repairs, which is why we're available 24 hours a day, seven days a week to take your call.
Troubleshooting the Problem
When you first notice an issue with your water heater, you may try to troubleshoot the problem yourself. This is absolutely fine, but it's important to keep in mind that attempting any repairs could put you or your family at risk. With a gas or electric water heater, you may have to shut off the fuel source or power supply, and doing this incorrectly can create a serious hazard. It's often best to leave the inspection and repairs to the professionals.
That's not to say you can't document the problems you notice and relate them to us over the phone or in person. If you hear strange noises coming from the appliance, then write down how frequent they are and at what time you hear them. Keep track of how often you use hot water, and which home appliances seem to be getting enough hot water, as well as those that are not. The more information that you can provide us, the better we can do our job. We're always willing to answer your questions and help you feel more at ease about your water heater.
The Repair Process
Once you've called us and we've arrived at your home, we'll get to work right away on repairing your water heater. We'll check for the signs that you've described to us, as well as anything else that's out of the ordinary. We will have to turn off the water supply in order to work on the appliance, so keep that in mind, should you or someone else in the house have to use the bathroom or want to take a shower. If you have an electric water heater, we'll have to shut off the power to the appliance so that we can safely work on it.
As we're working, we'll be sure to keep you updated on our progress and any issues that we find along the way. We'll inform you of any repairs we plan to make, as well as any parts that we need to replace. We want you to feel confident that you made the right choice in calling Spartan Plumbing, and we deliver on that choice by providing honest and efficient service. If you ever have questions, then please don't hesitate to ask. Our plumbing technicians will be more than happy to explain what the issue is and how they plan to fix it.
---
Saving on Monthly Utility Costs
Whether your water heater runs on gas or electricity, you likely keep an eye on how much energy it uses each month. If you've noticed that your monthly utility bills keep going up, then the issue could lie with your water heater. With regular tune-ups and repairs, you can keep the appliance running efficiently, which will mean less energy used on a monthly basis. Even just a few dollars a month can add up to quite a bit over the course of a year!
If you're concerned about how much natural gas or electricity your water heater is using on a monthly basis, then please contact us right away. We can provide the necessary repairs, or we can talk to you about replacing your old appliance with a new, more energy-efficient model. In the end, we want you to be happy with your water heater and how well it works for you and your family. If we can save you a few dollars along the way, then that's even better!
---
Contact Us Today
If you're having issues with your water heater, or you're worried that something might be wrong, then please don't hesitate to contact us. You can use the form below, or you can reach us at (253) 231-7661. With 24/7 emergency service, you won't have to wait until the morning for an experienced plumber to arrive, assess the situation, and provide the necessary repairs. We'll work quickly and diligently to fix the problem and get the appliance working so that you can go back to bed and look forward to a nice, hot shower in the morning.
We look forward to helping you!